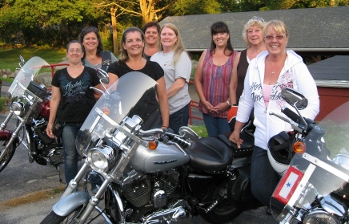 Latest LOH Happenings
I'm a baaaaad girl. I have fallen so far behind on keeping this page updated. I'm so sorry! Blame it on a new job, new and more duties as Chapter Secretary too, riding when I can, and just general exhaustion. But I'm back again, and just in time as we are about to enter our busiest time of year. Where did the summer go? Did we really have one? Seems like a big blur sometimes to me. But I know we did some great riding, had a couple of fun trips to Vermont in July at the Gray Ghost; and to the all new "rally", the Iron Adventure Run in Ludlow in August. Both are among the many reasons why it can be so great to be a part of BVH.

First order of business, as usual, is to see who has special days coming up this month. Make sure to say Happy, Happy Birthday to Kim (if you are lucky enough to catch sight of her, lol) this month.
Welcome!
We are so glad that you decided to visit our page, and hope that you will do so again and again.
Riding Information For Women
With many thanks to our LOH member Janice K, we have found a neat website for us female motorcycle
enthusiasts, Motoress. It's written by women, for women.
Check it out at motoress.com/motoressence.asp and read their articles, reviews, and get discounts on lots of products.
Our Mission
Ladies of Harley was established by Harley Owners Group to encourage women members to become more involved in chapter activities. LOH is not a separate group from H.O.G., but rather an added benefit for women riders and passengers. Membership to LOH is free to all active HOG members, but you must register for LOH by calling 1-800-CLUB HOG. Shortly after calling you will receive your LOH patch and pin. We want to encourage all the ladies to join us. Your ideas and thoughts will make all the difference.
Our Blackstone Valley group of Ladies have very recently re-started after a hiatus of a couple of years. So we are a small group right now, but are excited and hard at work (re)establishing and (re)defining ourselves and this page. We are talking about a lot of different ideas, old and new, and will update this page soon with more information as we make decisions about what we want our LOH to be about, and what we want on our page. We hope that as we develop and start doing more things, and having more and more fun together, that more and more ladies will join us!
How to Get Involved
As LOH members we represent the 'voice' of the ladies for the Blackstone Valley Chapter. As your LOH officer it is my privilege and honor to bring new ideas to the monthly Officers' and Chapter meetings, anything from a new charity, to a ride, to a sponsored event, or just about anything else. So come on, ladies let your voices be heard!

LOH has periodic meetings to discuss upcoming events, solicit new ideas from our members, and sometimes just to have a ladies night out. Check the events calendar for our next meeting.

And please visit our page frequently as we hope to keep this updated with new information once we get it, and ourselves, more firmly established.